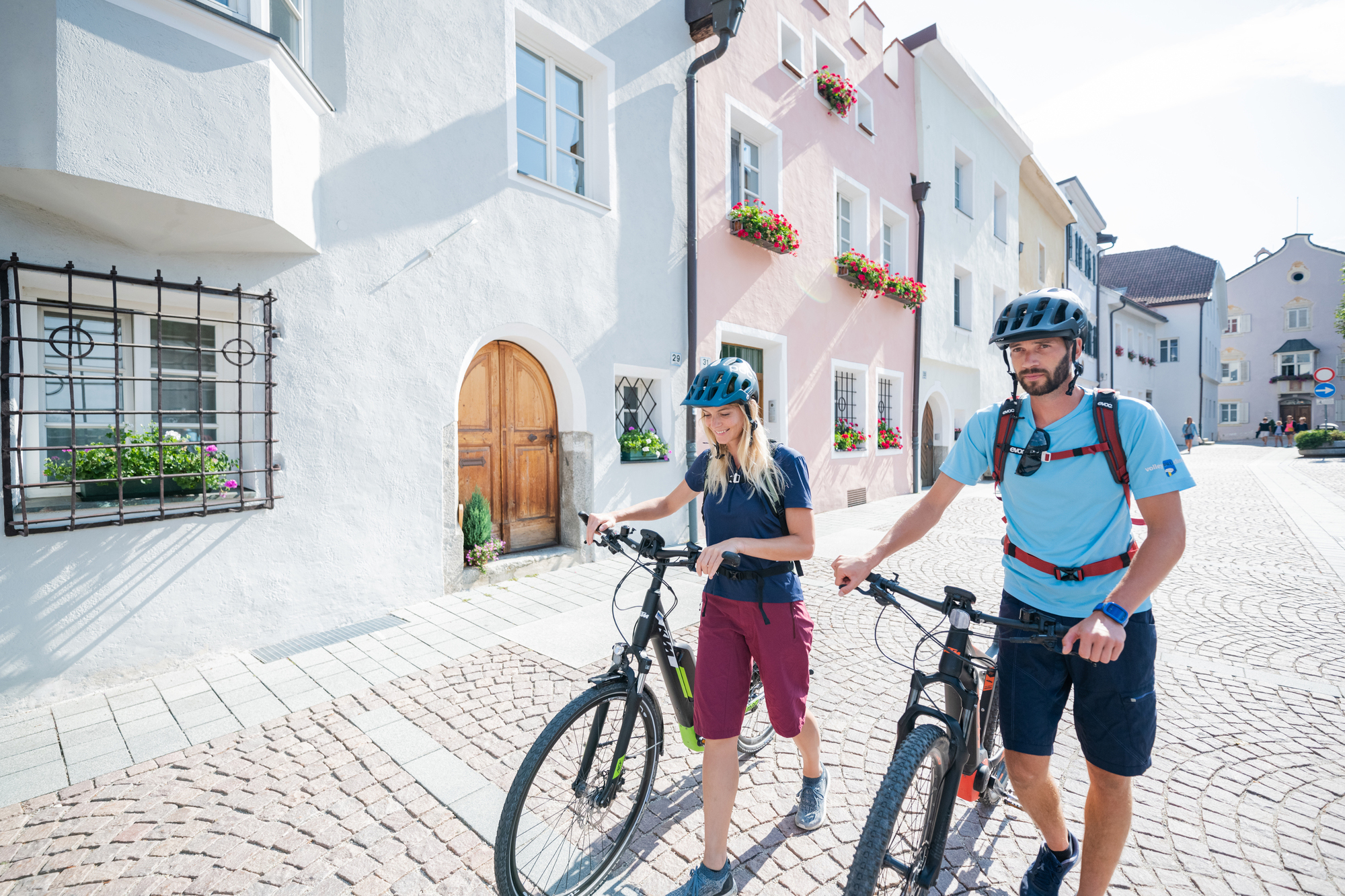 Two-wheeled tourism.
IDM, in tandem with tourism associations and representatives from the accommodation sector, provide bike-friendly certification to hospitality establishments.
For 25 years now German Cyclists' Association ADFC have been defining the quality criteria for bike-friendly establishments, and the Bett&Bike logo certifies that these criteria are fulfilled. In 2021, IDM, with the support of HGV (Hotelier and Restaurant Association), VPS (Association of Private Hosts), the Red Rooster Farmers' Union of South Tyrol and VCS (South Tyrol Campsite Operators' Association), brought this certification to our region and with it, provide cycling tourists and cycling fans with a guarantee of services tailored to cyclists in all Bett&Bike establishments.

Valuable clientele
In France, Belgium, Luxembourg, Austria, Switzerland and other European countries, a growing number of people are opting for cycling holidays, and in Germany 22 million people use a bike when on holiday each year. Data reveals that this type of guest is wealthy and willing to spend, to the benefit of both the accommodation and hospitality sectors.
These guests are in constant search of new areas to explore by bike. South Tyrol, thanks to its vast network of cycling paths and mountain bike trails, infrastructure and top-quality tourism services, is an extremely popular holiday destination amongst cyclists.

A well-oiled chain
New members receive a certificate of conformity and a "Bett&Bike" plaque to affix to the main entrance wall. This clearly identifies the establishment as cyclist-friendly, even from the outside.
Information pertaining to the certified establishments is entered into the TIC-Web database of the LTS (South Tyrol Association of Tourism Organisations) and on www.suedtirol.info. The accommodation establishments are also listed in the Bett&Bike database (www.bettundbike.de) together with a wealth of photographs, valuable information and links to their own websites. The information for each establishment also shows the nearest cycling route, so that cycling tourists can pick the accommodation of their choice along the routes they have planned.
Guests travelling by bike also receive information regarding certification through marketing and press campaigns. Through collaboration with the ADFC, Bett&Bike accommodation in South Tyrol is also advertised in Germany.

The Bett+Bike and Bett+Bike-Sport certifications
The special needs of cyclists are the focus of Bett+Bike certification. Accommodations certified with this label assure their guests a minimum range of bike-friendly services.
The Bett+Bike Sport certification goes beyond this. Accommodations with this certification namely offer their guests additional mountain bike and road bike friendly services covering the areas of service, maintenance and technology.
Find a full version of this page on our German or Italian Website.